The Portage between Hook Lake and Keneu Lake
Click on the photos below to see the full resolution image - Use your browsers back button to close photo and return to this page.
Portaging Direction: From Hook Lake to Keneu Lake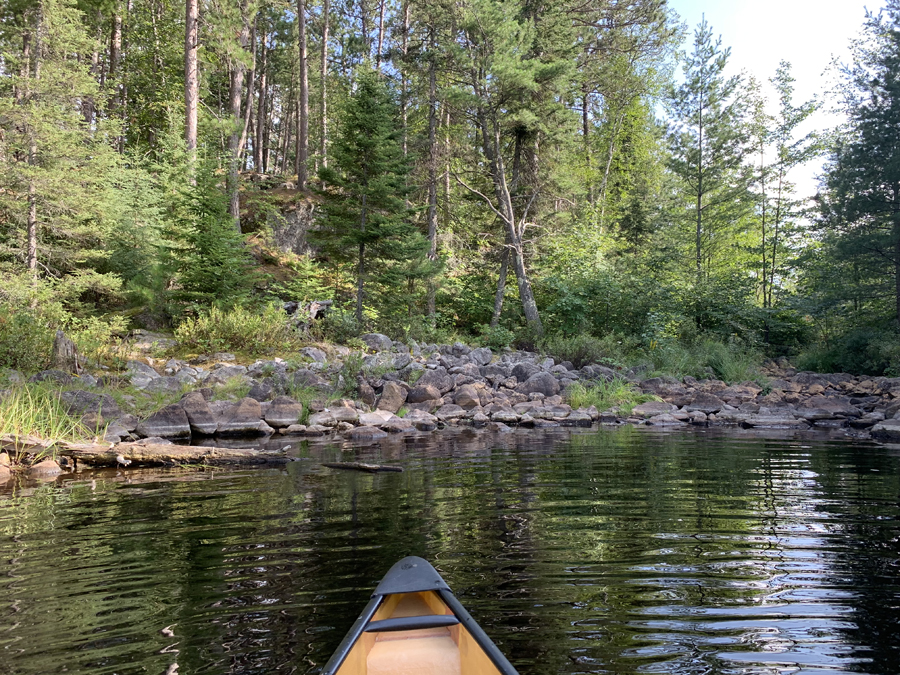 The boulders mean you might have to get your feet wet, especially if you have a solo canoe. The water is not deep here. You can usually wedge your canoe in between the boulders for stability. The bay leading up to this landing is also full of submerged boulders so be vigilant and come in slow.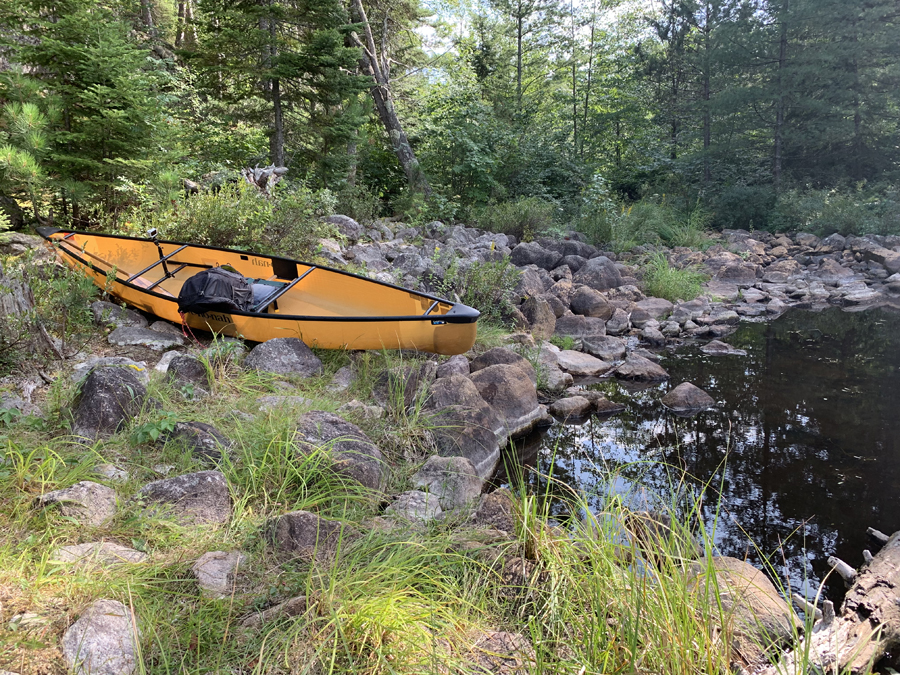 Not a fun place to land a canoe, but there are much worse to be found in the BWCA. The creek that flows from Keneu Lake to Hook Lake is in that field of boulders to the far right. There wasn't much water as this view is in mid-August. Just a trickle.

The portage is a little overgrown and the landing on the Hook Side is relatively tough. Keneu Lake being on a dead end route probably doesn't see nearly as many visitors as the the other lakes in the group (Slim Lake, Hook Lake and Rice Lake).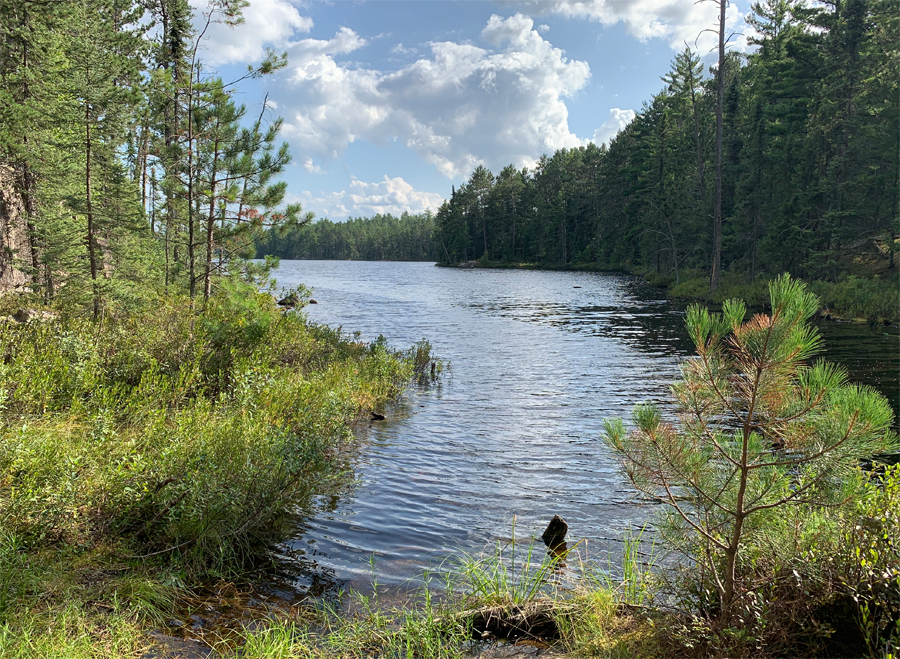 Southward view of Keneu Lake. This canoe landing is much better than the one you experienced at the other end of this portage.
Now that you've made it over the portage, visit: KENEU LAKE
Portaging Direction: From Keneu Lake to Hook Lake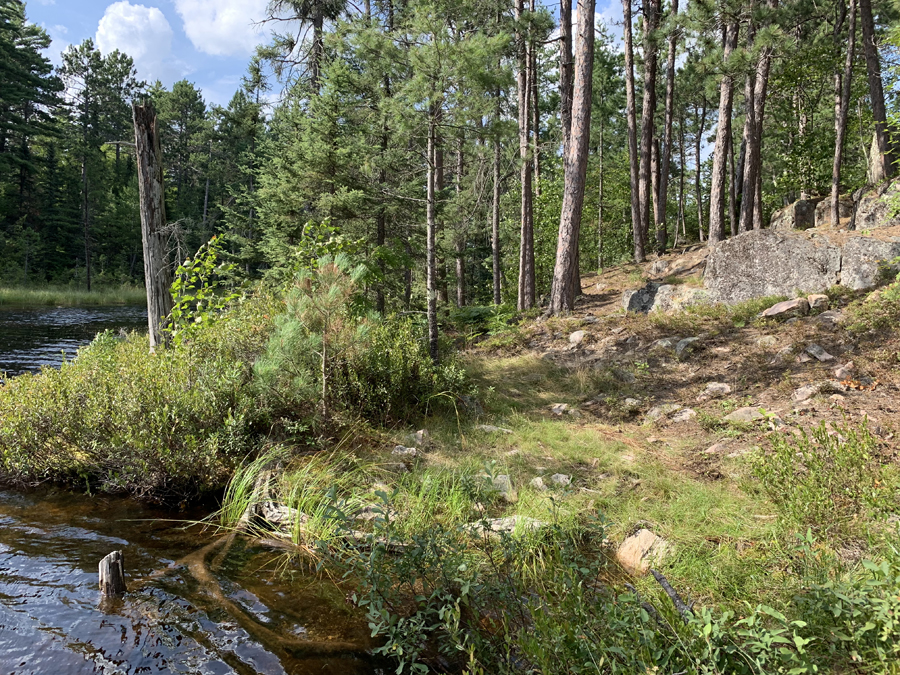 Relatively straightforward canoe landing. The portage has a rock wall at the the beginning of it to your right as you walk over to Hook Lake. The channel to your left is where the little creek flows out of Keneu Lake to Hook Lake.

Portage is somewhat brushy and narrow in spots, but it is short and you are over it quickly. The landing on Hook Lake is a jumbled mass of boulders. The lake is not deep at the Hook Lake side of the portage, but the bottom is rocky (careful with the foot) and mucky. The water is dark stained so hard to see where you are stepping in the water.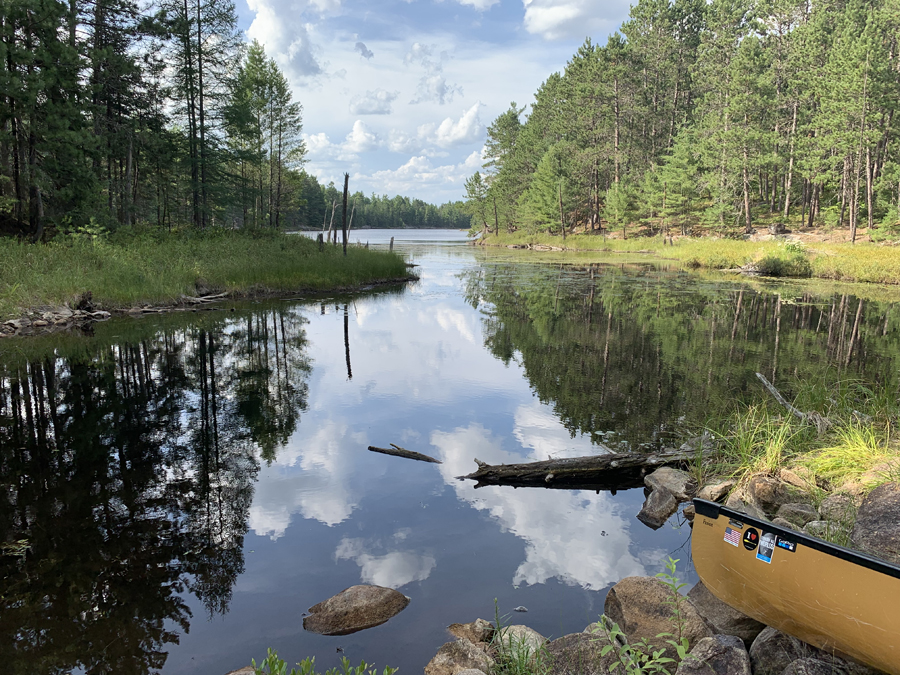 Hook Lake looking due north from its very southern end. A small creek flows in just out of your view to the left. In that weedy area of the lake in the middle distance are mine-like boulders eager to add a few more scratches, nicks and dents to your canoe.
Now that you've made it over the portage, visit: HOOK LAKE

Return to the BWCA Portage List