BWCA Entry Point 25 - Moose Lake
Kawishiwi Ranger District
Directions to this entry point: From Ely, Minnesota, head east on West Sheridan Street 1.2 miles toward North Central Avenue. Continue onto Highway 169 North (Fernberg Trail) for about 17 miles until you come to Moose Lake Road. Turn left on Moose Lake road and travel 2.3 miles to the large parking lot that serves the entry point and motor boat traffic on Moose Lake.
This is the busiest entry point in the BWCA. A daily quota of 27 groups can begin from this location. The parking lot is huge to accomodate the masses.
There are at least four main outfitters based on Moose Lake. These are Williams & Hall, LaTourell's and Canoe Country Outfitters and Canadian Border Outfitters. Directional signs for these outfitters are visible along Moose Lake Road (Forest Road 438)..
Motorboats are allowed on Moose Lake. Much of the motorboat traffic is from outfitters shuttling canoeists up to Prairie Portage on Basswood Lake or those looking to avoid paddling to Ensign Lake or Birch Lake. Motors are allowed on Moose Lake, Newfound Lake and Sucker Lake. If you are planning on using Moose Lake as your entry point into the BWCA, most groups head northeast and either paddle up to Prairie Portage (where you can get into Basswood Lake or head into Quetico Provincial Park) or head into Splash Lake and Ensign Lake. It is also possible to portage to Wind Lake. A Canadian Ranger Station is located at Prairie Portage.
From the unloading area you will have to haul your gear about 10 rods to the edge of the lake along a well maintained gravel path. Once you leave the entry point landing, most groups typically head to the right (northeast). You enter the BWCA as you pass the end of the island on your left when heading in this direction.
There is a portage from the back of the parking lot that leads to Flash Lake. From Flash Lake you can portage to Snowbank Lake. This makes it possible to do a loop through Snowbank Lake back to Moose Lake. The Secret Blackstone Trail also accessed from a small parking lot along the road, about 0.2 miles before reaching the Moose Lake entry point parking lot.
Exploring the Entry Point
Click on the photos below to see the full resolution image - Use your browsers back button to close photo and return to this page.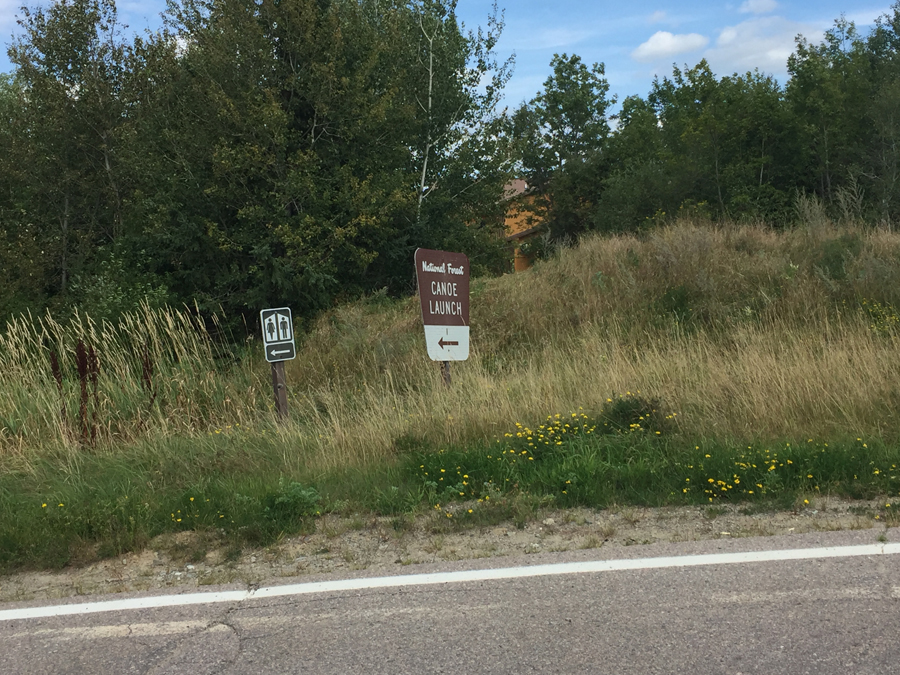 Sign near the end of Moose Lake Road indicating your imminent arrival at the entry point (September 4, 2016).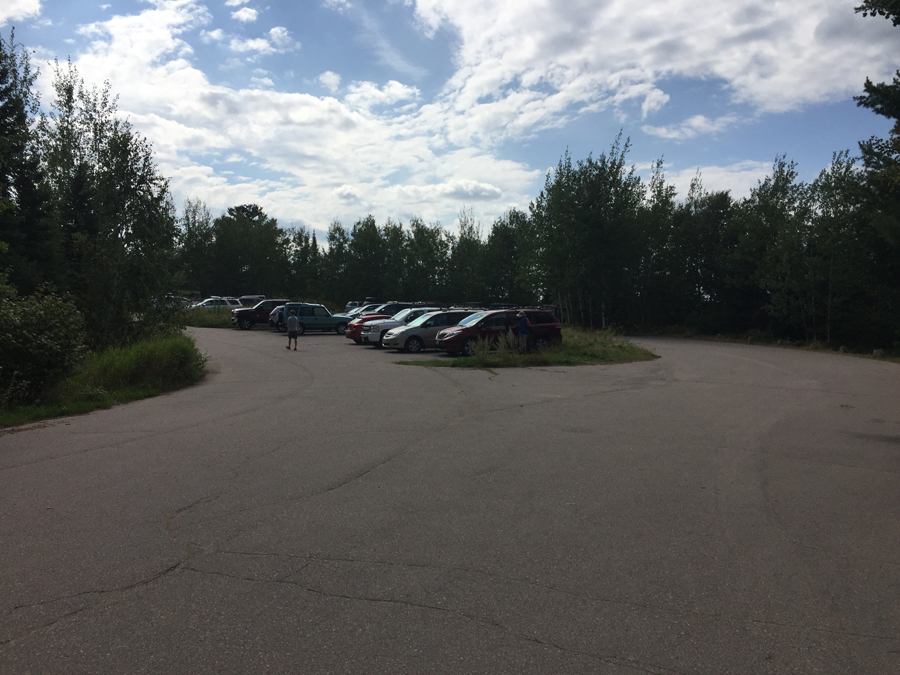 The parking lot is large and divided into two sections. Moose Lake has the highest entry quota of any BWCA entry point (September 4, 2016).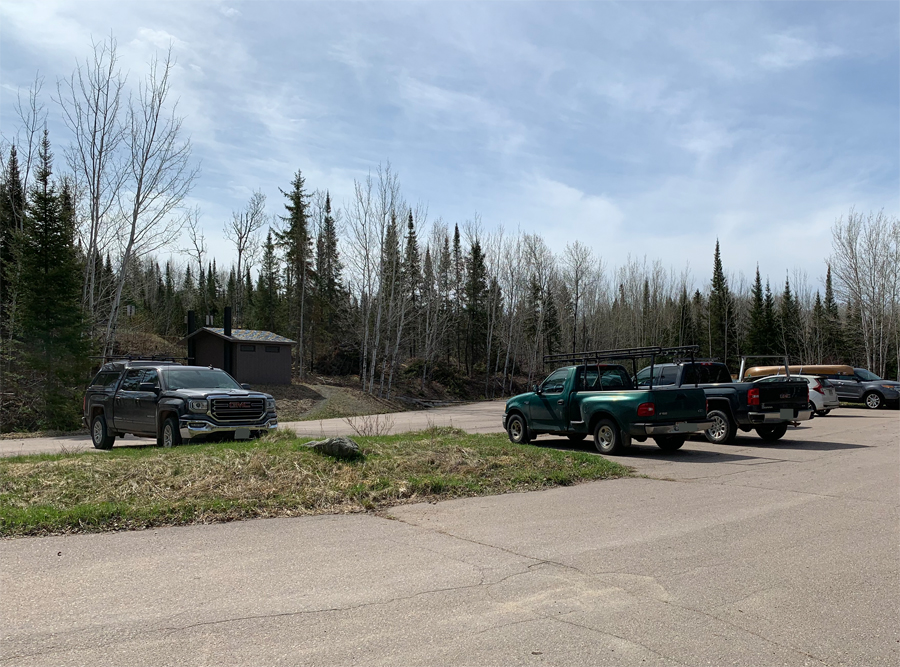 Another park of the huge parking lot. Restroom building visible in background (May 2, 2021).

A look about the parking lot (September 4, 2016).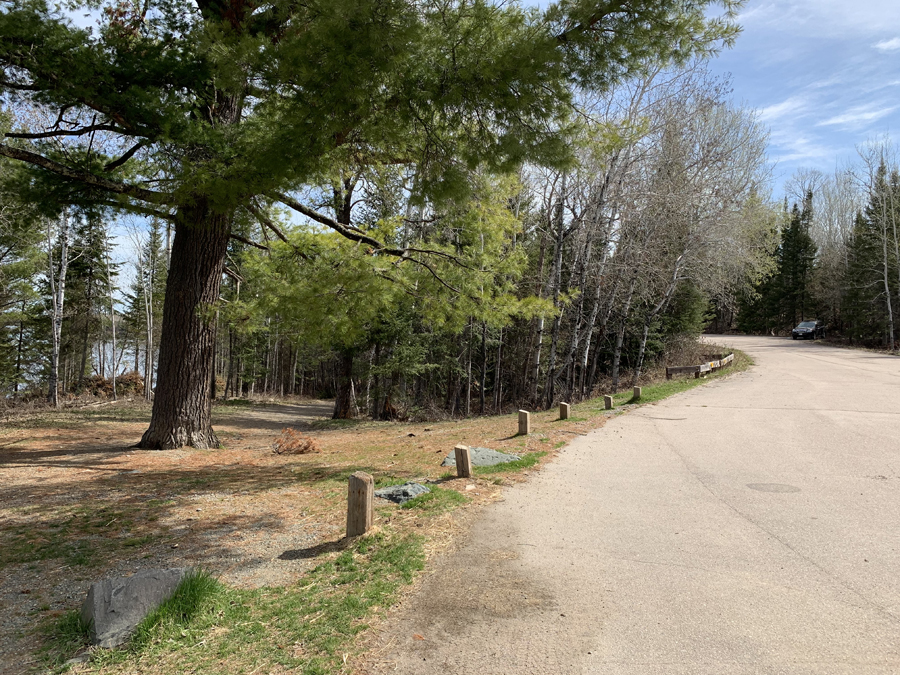 Car unloading area (May 2, 2021).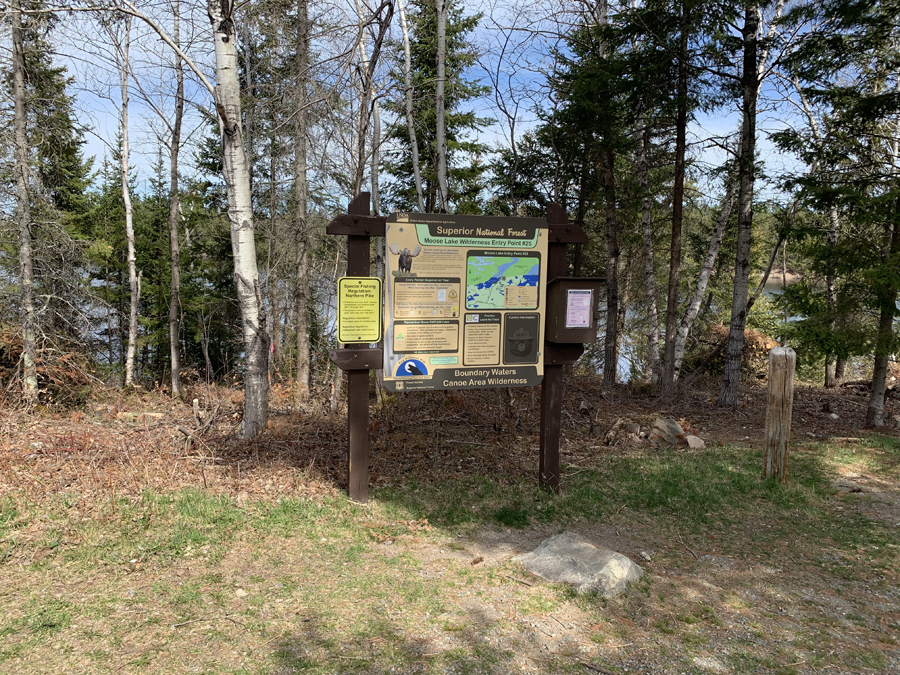 The bulletin board at Moose Lake. If you need a day permit, they are found in the box to the right (May 2, 2021).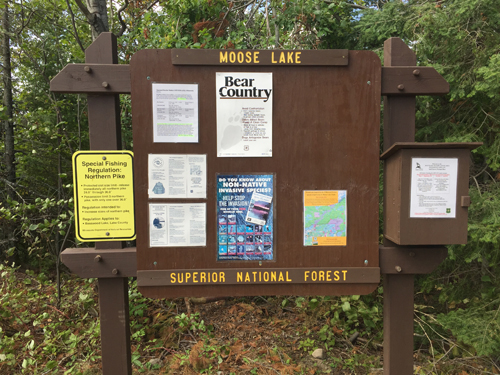 Image of the previous bulletin board which has been replaced with the one above (September 4, 2016).

Portaging from the parking lot down to the shore of Moose Lake (May 2, 2021).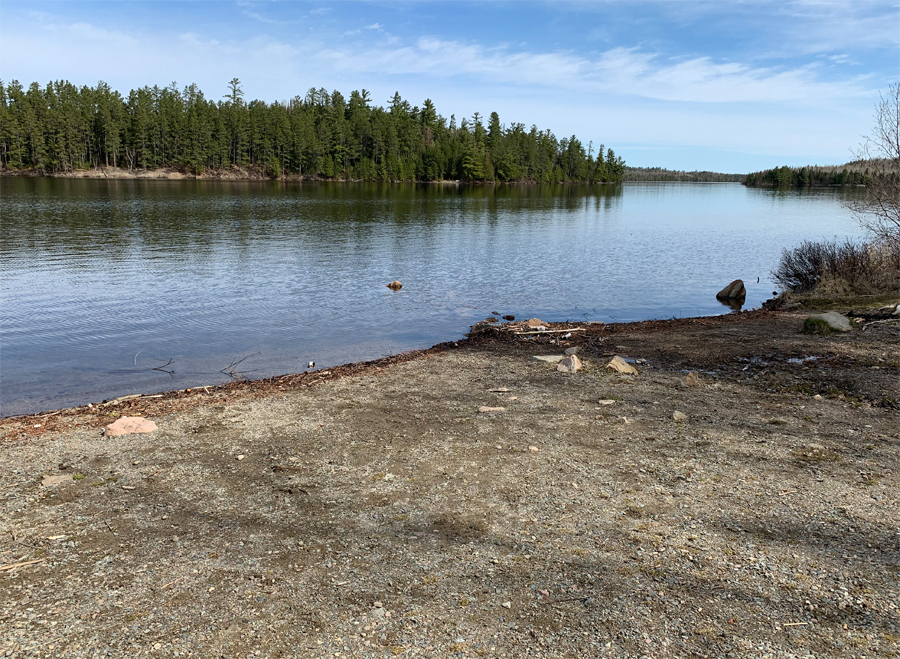 The lake is down the hill. The path is wide and sandy and well worn from all the happy campers that start their BWCA trips at Moose Lake. The land feature in the distance is a large island. This view is to the north (May 2, 2021).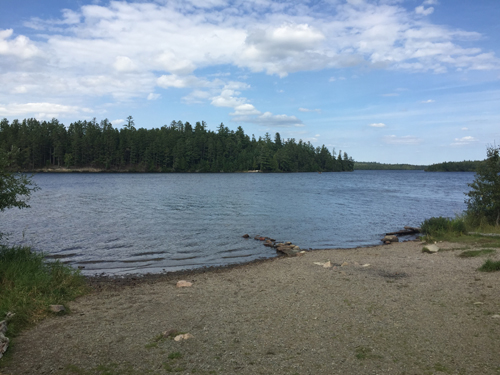 Older photo of the image above (notice water is a bit lower) (September 4, 2016).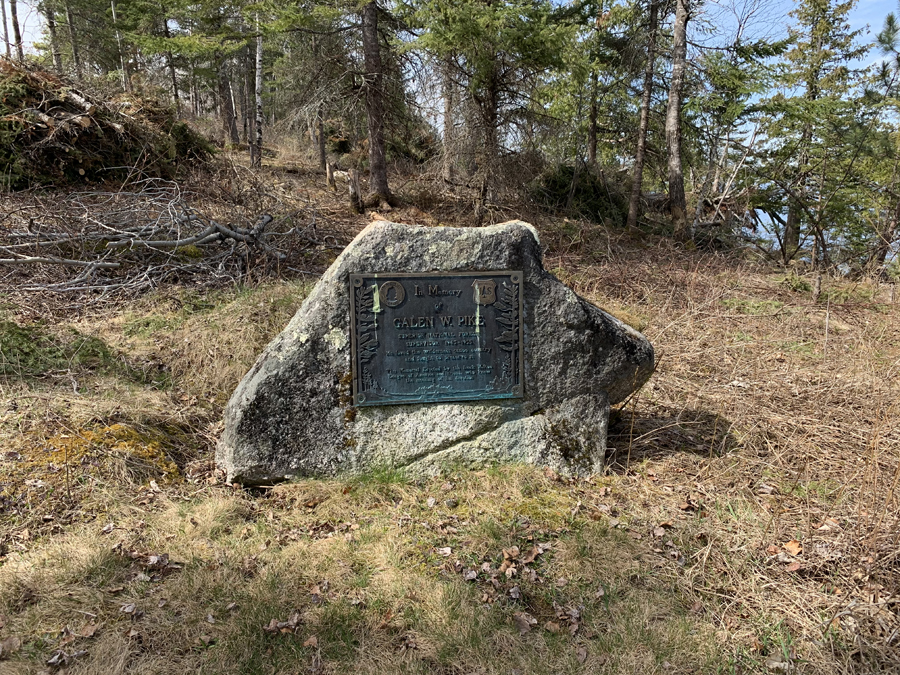 Monument to Galen W. Pike. Was a Superior National Forest supervisor from 1945-1955. (May 2, 2021).
Now that you've reached the shore of the lake, visit: MOOSE LAKE
Return to List of BWCA Entry Points (sorted by Entry Point Name or by Entry Point #)