BWCA Entry Point 29 - North Kawishiwi River
Kawishiwi Ranger District
From Ely, head northeast on Highway 169 for 15 miles to Ojibway Lake Road. Turn right on Ojibway Lake Road and continue south about 1/2 mile to the parking area.
You can unload your gear right at the edge of the lake, but the parking lot is about 300 feet back up the road. There is a dock, a boat ramp and some picnic tables here.
It is about a one mile paddle across Ojibway Lake to the Triangle Lake portage. A short 5 rod portage provides access to Triangle Lake. It is another one mile paddle across Triangle Lake to the portage that leads to the North Kawishiwi River. The portage to the river is a relatively strenuous 190 rod affair.
Once reaching the Kawishiwi River, there are two route options from this entry point. Heading west down the Kawishiwi River you soon come to a split where the river becomes the North Kawishiwi River and the South Kawishiwi River. Taking the North Kawishiwi River sets you in the direction of Farm Lake. Eskwagama Lake and Clear Lake are also in this direction. If you take the South Kawishiwi River route, you will be heading toward the Little Gabbro Lake and Gabbro Lake area.
Ojibway Lake and Triangle Lake are not in the Boundary Waters Canoe Area. Therefore, they allow motor boats. Both Ojibway Lake and Triangle Lake each have one campsite on them. You don't need a permit to camp at either of these sites because they are outside of the BWCA. Since you can pick up a BWCA permit the day before your official entry date, you could camp at either of these sites the night before you start your trip, allowing for an early start.
Exploring the Entry Point
Click on the photos below to see the full resolution image - Use your browsers back button to close photo and return to this page.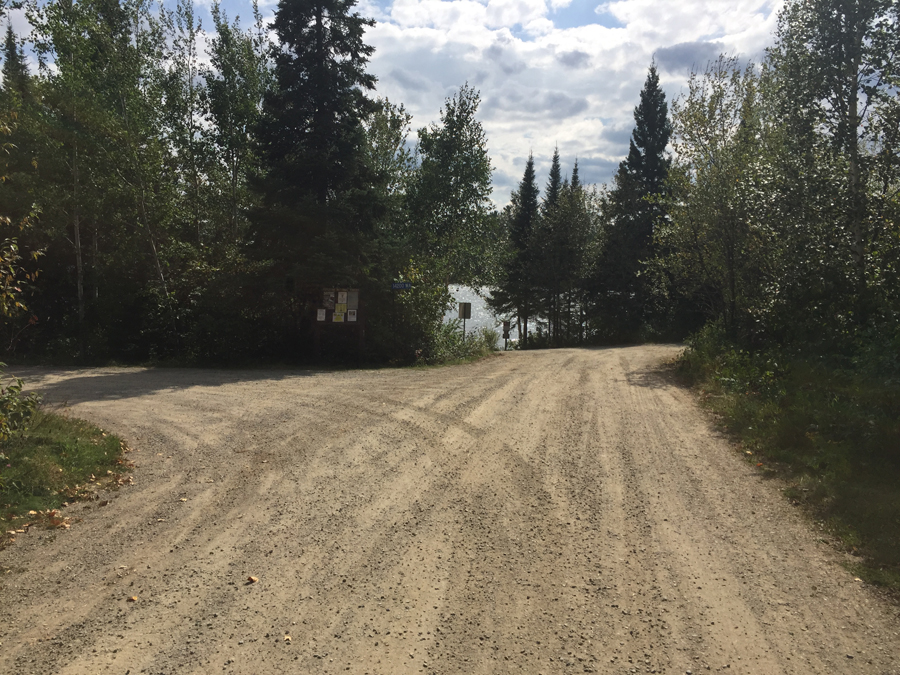 This is the main road leading into the entry point area. Just behind you to the right is the parking lot. Just before you on the left is a parking area for a small picnic area and also the restroom. Ahead of you is the boat ramp and dock on the shore of Ojibway Lake.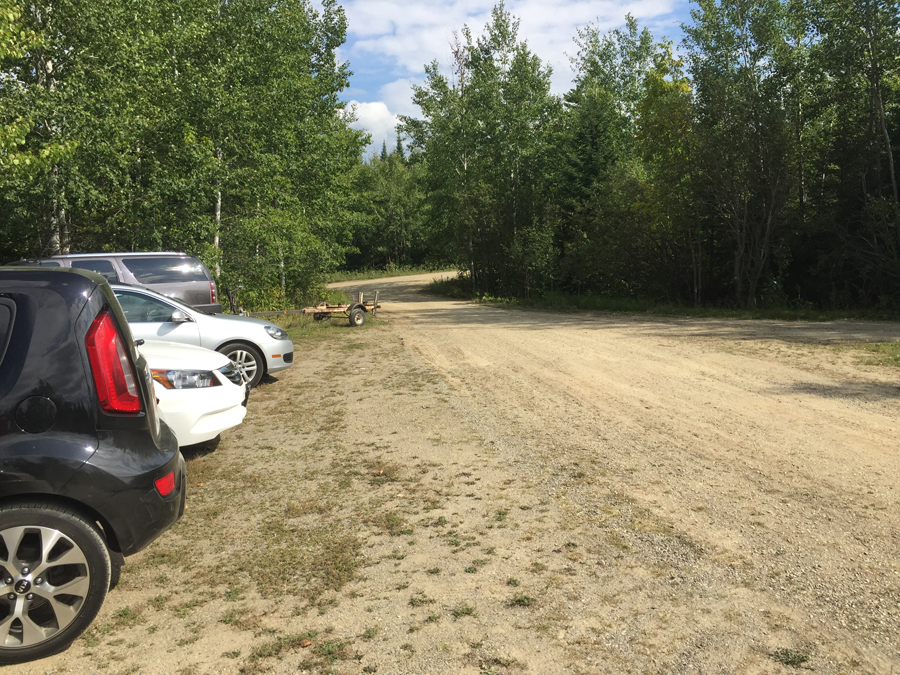 The parking area for canoeists and boaters. This is about 100 yards (20 rods) from the boat ramp/dock.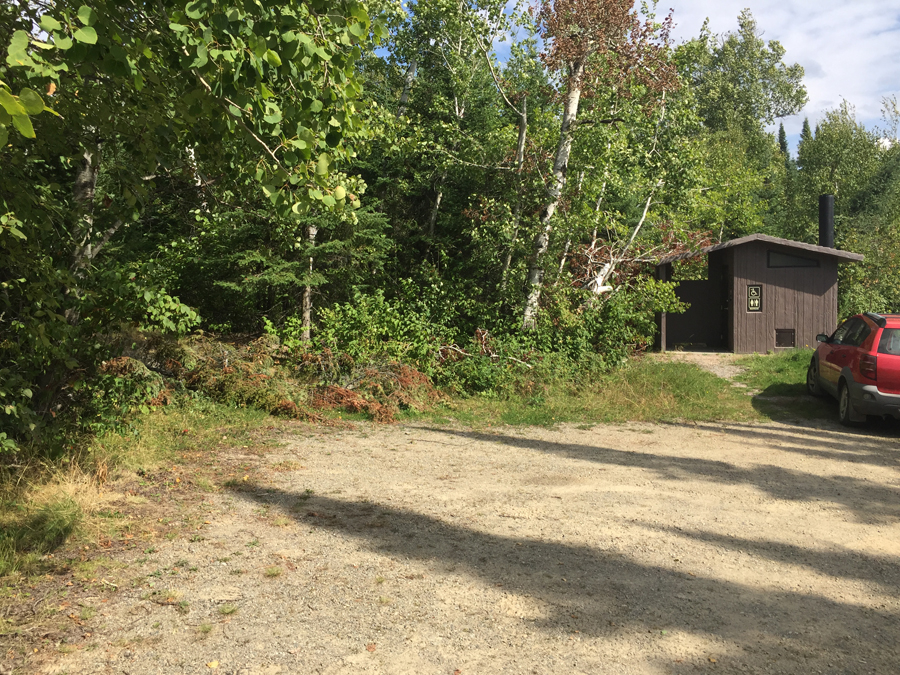 An additional parking lot for people using the picnic area or the biffy.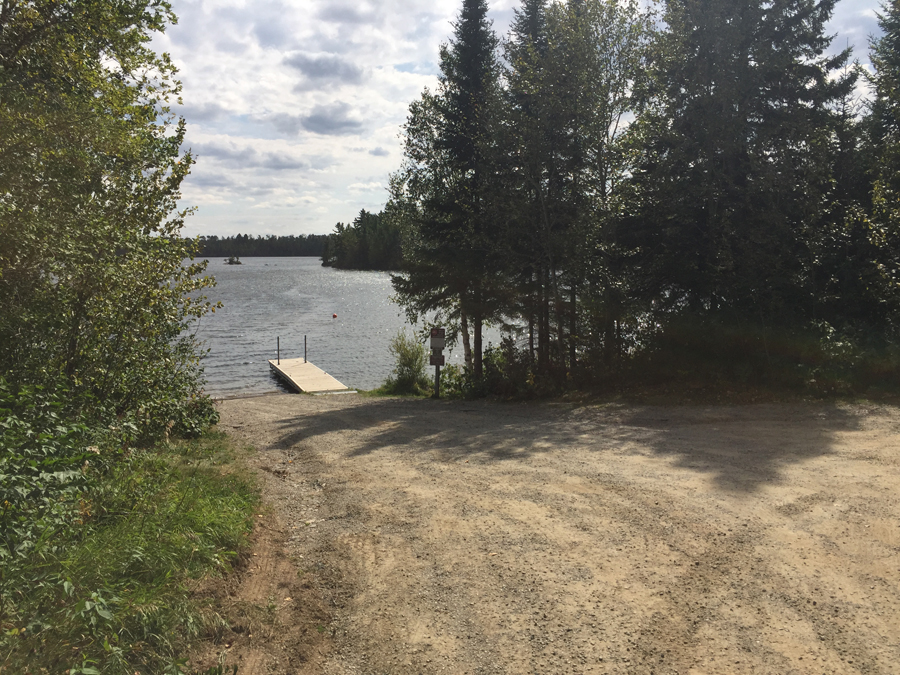 The boat ramp and dock on Ojibway Lake. Your view is toward the south.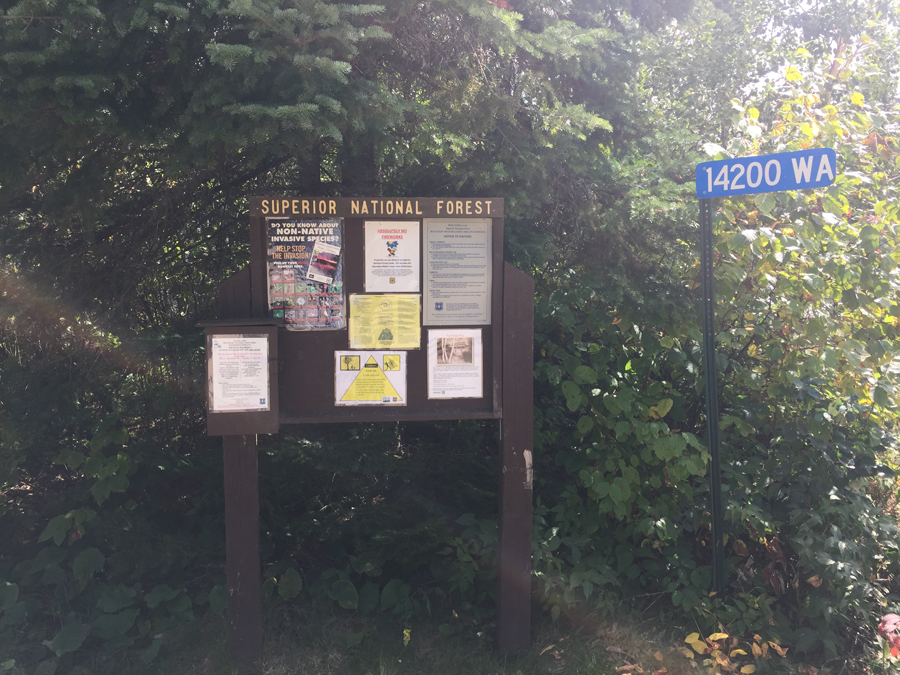 The bulletin board. Day permits are in the box hanging on the left side of the board.


Ojibway Lake.

Filling out a day permit and walking out onto the dock on Ojibway Lake.

Walking from Ojibway Lake back up towards the parking area along Ojibway Lake Road.
Now that you've reached the shore of the lake, visit: OJIBWAY LAKE
Return to List of BWCA Entry Points (sorted by Entry Point Name or by Entry Point #)