Muskeg Lake
Kawishiwi Ranger District
The Four Mile Portage hugs much of the east shoreline of this lake. Even so, it is fairly difficult to get a canoe into the lake because a recent windstorm did a lot of damage in the area. The original portage found at the end of the Ella Hall Lake portage is no where to be found (as of 2018). So if you want to paddle Muskeg Lake, you have to some work to do.
Muskeg Creek flows through the lake coming from Mud Lake. The creek enters in the southwest part of the lake and flows out the north tip of the west bay of the lake. You actually cross Muskeg Creek if you traveled the Four Mile Portage from Fall Lake out to this point. Muskeg Creek drains into Basswood Lake to the north in Pipestone Bay. It appears on satellite images that the first half-mile or so north of Muskeg Lake is navigable. There appears to be a few barriers, but it might be a good adventure to follow the creek up to Basswood Lake. The west shoreline of Muskeg Lake is covered with a large peat bog, true to its name.
The lake has a maximum depth of seven feet. It does contain a good population of northern pike according to the Minnesota DNR. The lake probably doesn't freeze out because of the creek flowing through it.
There are no campsites on this lake.
There is another more popular lake by the same name in the eastern BWCA near Kiskadinna Lake and Long Island Lake.
Exploring Muskeg Lake
Click on the photos below to see the full resolution image - Use your browsers back button to close photo and return to this page.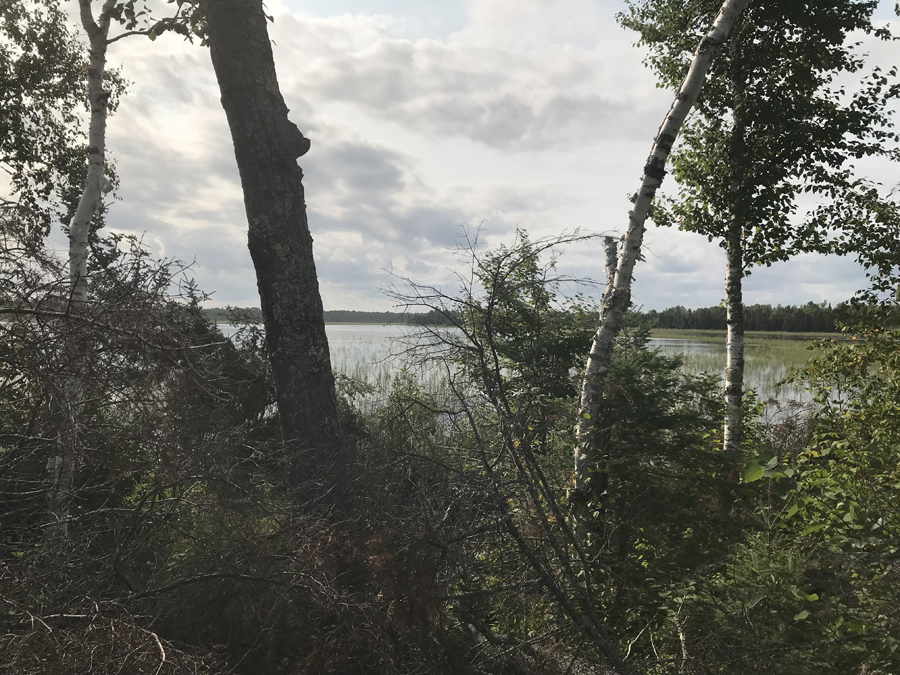 Looking to the west from the east side of the lake along the Four Mile Portage.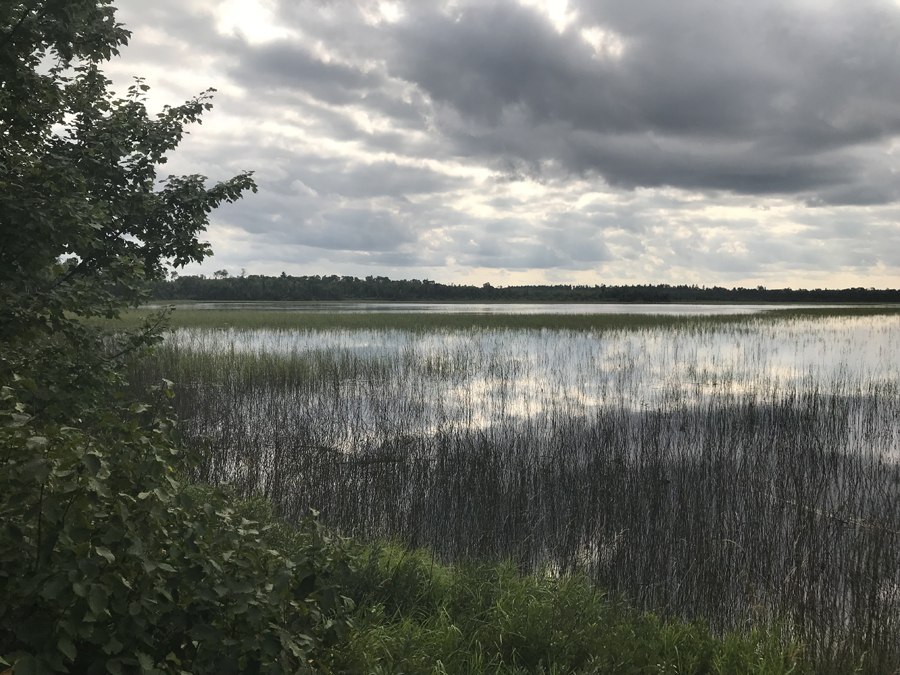 The vantage point is from the northeast shoreline of Muskeg Lake along the Four Mile Portage. This view is toward the southwest.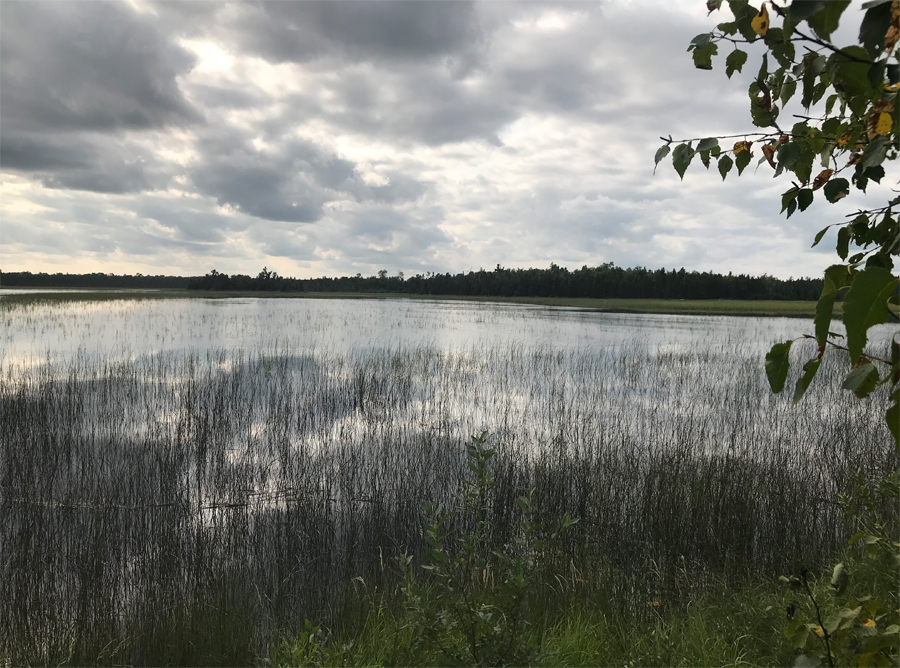 Another view to the west/southwest from the Four Mile Portage. It is easier to get down to the lake shore in the northeastern part of the lake.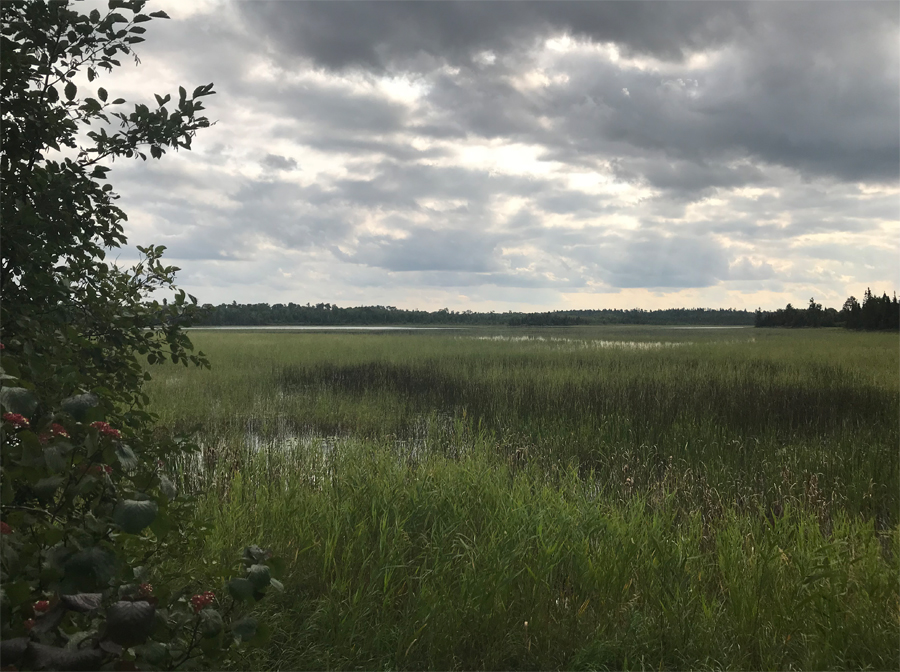 View is to the west/northwest. The location of this viewing position is in the northeast part of the lake just before the Four Mile Portage turns away into the forest to the north.
Route Connections for Muskeg Lake
From Muskeg Lake you can bushwhack out to the Four Mile Portage. There are a number of places where the Four Mile Portage comes close enough to Muskeg Lake to make this relatively easy. The original portage near Ella Hall Lake that connected to the Four Mile Portage was destroyed by windstorms and hadn't been cleared at time of last visit (July 2018). Muskeg Creek is also accessible from Muskeg Lake.