Entry Point 9 - Little Indian Sioux River South
LaCroix Ranger District
From Ely, drive to the Echo Trail and follow it west about 39 miles. The parking lot is right along the road on the right. The driving on the Echo Trail gets easier the farther you go west. Once west of the Big Lake entry point the road is less curvy and wider. The portage from the parking lot to the river crosses the Echo Trail. There is another trail leading out of the parking lot marked by a sign that says ("Trail"). That path is the portage between the BWCA Entry Point 9 (here) and the BWCA Entry 14 canoe landings. You would use this portage if you were doing a loop that required traveling along this stretch of the Little Indian Sioux River. Do not portage over to the BWCA Entry Point 14 landing and head north (downstream) if you hold the entry permit for this entry point. You must head south (upstream), down the Little Indian Sioux River toward Bootleg Lake.
This entry point only allows one group every other day. This entry point has the most restricted quota in the BWCA. The nearest campsites are on Bootleg Lake and paddling in that direction is the only route option. Nevertheless, this is a very lightly traveled route and you will see few other paddlers. Scenic Sioux Falls requires a short portage and is just shy of five miles downstream from the entry point. The mouth of the Little Pony River is about a mile south of Sioux Falls. Use that river to get to Bootleg Lake unless you have other plans. Bootleg Lake is nine river miles from the entry point landing, so give yourself some time to make the journey.
If you need to visit the restroom, BWCA Entry Point 14, which is just a few hundred feet further west down the Echo Trail from this parking lot has one.
Exploring the Entry Point
Click on the photos below to see the full resolution image - Use your browsers back button to close photo and return to this page.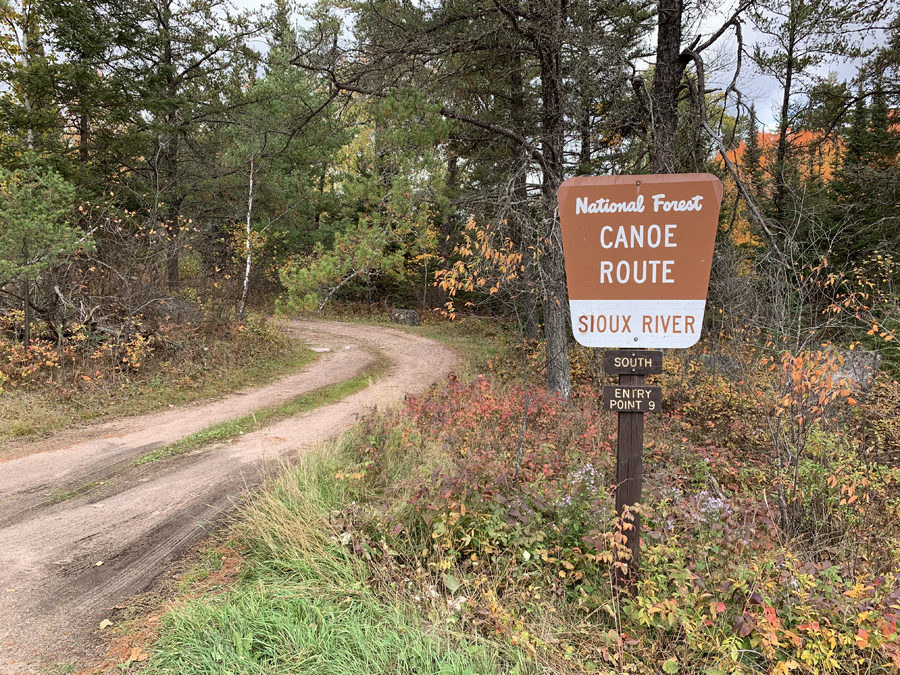 Looking east down the Echo Trail. Forest Road 464 is to your right just out of view. From here it is about four miles to BWCA Entry Point 8 - Moose River South.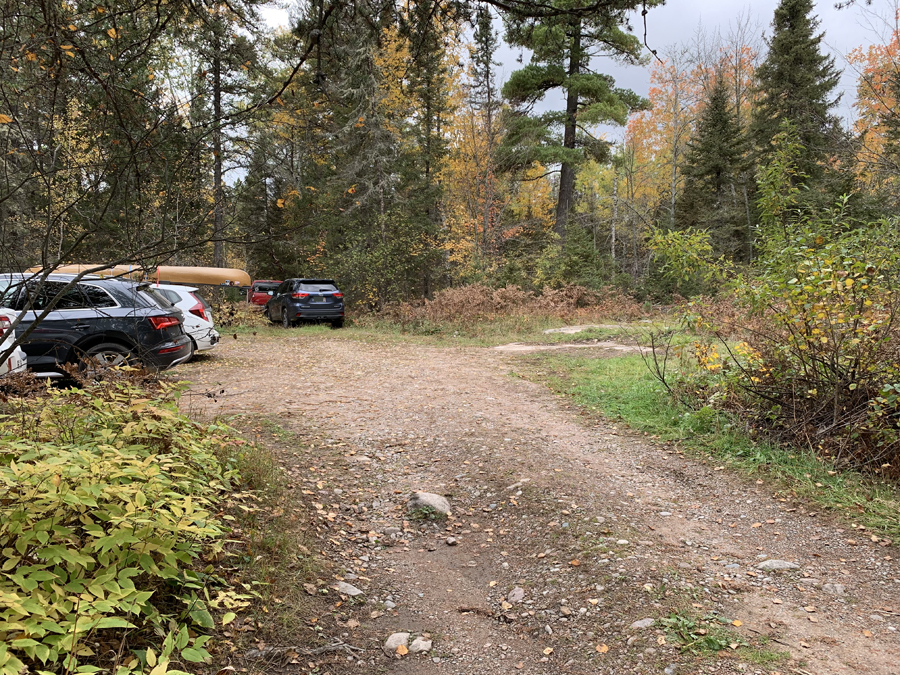 Forest Road 464 beckons.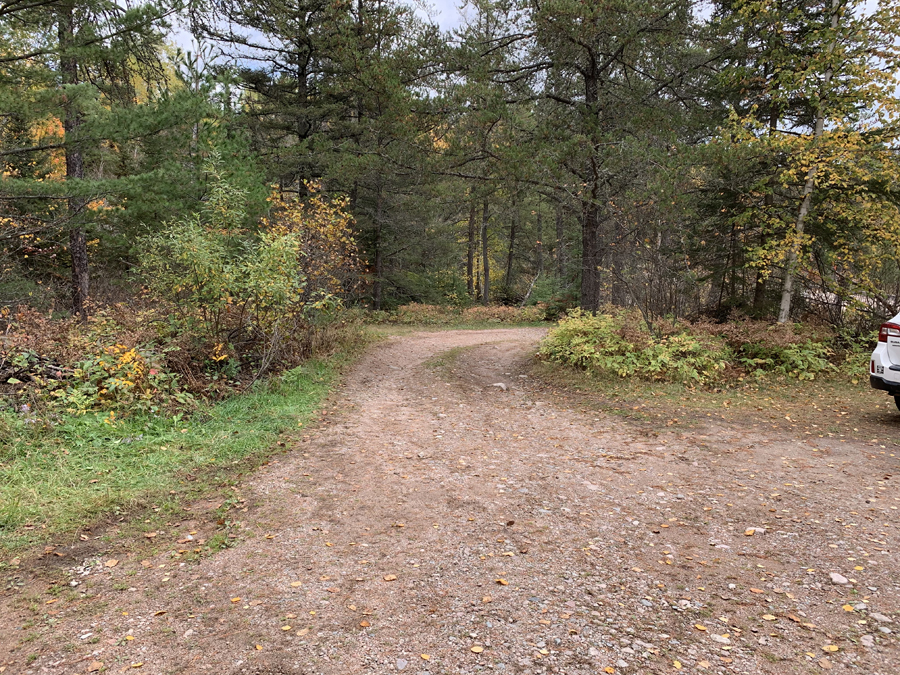 View to the west along Forest Road 464. The parking lot for this entry point is on both your left and right (either side of the road). You can just see the Moose River canoe landing to the left of the road.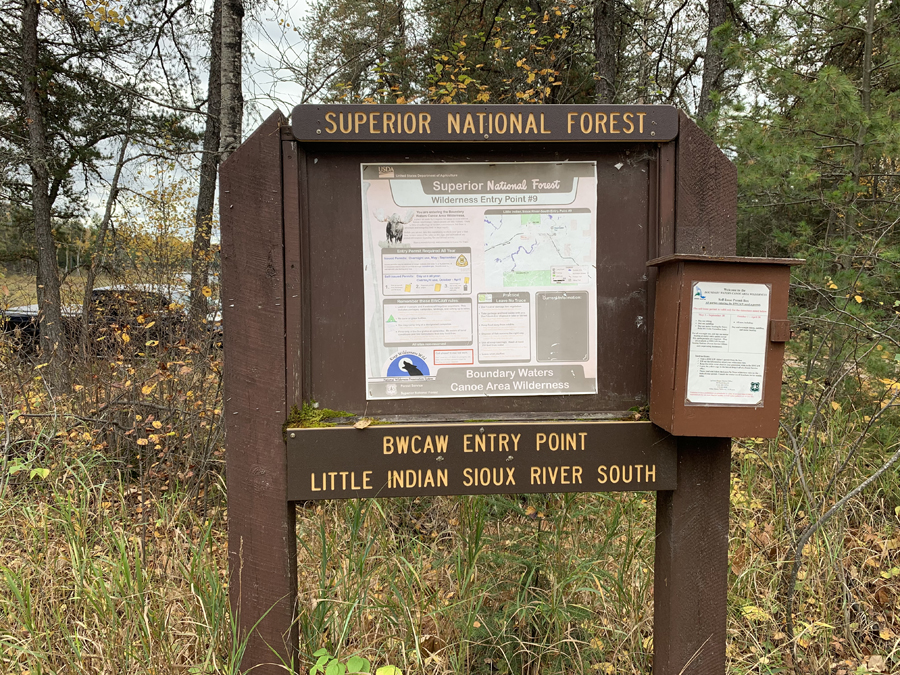 The parking lot on the south side of Forest Road 464. The parking lot on the other side of the road is similar.

From the parking lot, just haul your stuff across the road (Echo Trail) and down to the river. The portage landing is very good. (See this portage in both directions here.)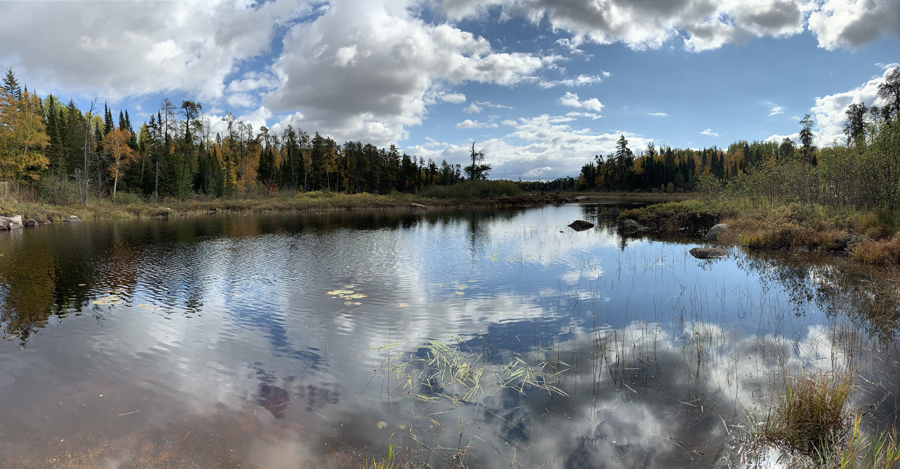 Looking south from the entry point canoe landing at the Little Indian Sioux River.
Now that you've reached the bank of the river, visit the:
LITTLE INDIAN SIOUX RIVER
Return to List of BWCA Entry Points (sorted by Entry Point Name or by Entry Point #)