South Hegman Lake
Kawishiwi Ranger District
SOUTH HEGMAN LAKE CAMPSITES:
None visited yet.

South Hegman Lake has two campsites. The only other lake in this area with campsites is over a 146 rod dead end portage on Little Bass Lake to the northeast. Access to Little Bass Lake is only from North Hegman Lake. There are no campsites on North Hegman Lake or Trease Lake.
Most groups visit this area to check out the pictographs on North Hegman Lake. Because of the pictographs, this lake sees a fair amount of day traffic by folks using BWCA day permits. All the lakes in this area are lined by cliffs and massive rock formations and it is a beautiful area to visit.
Do not think to use this entry point if you are hoping this is an easier route up to Angleworm Lake instead of doing the 716 rod Angleworm Lake portage. This way isn't easier and is in fact quite a bit more laborious.
North Hegman Lake flows into South Hegman Lake through a creek next to the portage between the two lakes. South Hegman Lake drains out through a small creek in it's southeast bay and it's waters then flow southeast about a half mile into Nels Lake losing 55 feet of elevation in the process.
The last major fire along South Hegman Lake occurred in 1822. This was a 48,000 acre fire. Because it has been a long time since a large fire impacted this area, there are considerable stands of large pines and other trees in this area (Heinselman, 1999).
References:
Beymer, Robert, Boundary Waters Canoe Area – Volume 1 – Western Region (Berkeley: Wilderness Press, 2006), 128, 130, 133.
Heinselman, Miron, The Boundary Waters Wilderness Ecosystem (Minneapolis: University of Minnesota Press, 1999), 57.
Pauly, Daniel, Exploring the Boundary Waters (Minneapolis:  University of Minnesota Press, 2005), 131.
Exploring South Hegman Lake
Routes to locations on South Hegman Lake are shown below:
Paddling from BWCA Entry Point 77 to North Hegman Lake portage
Paddling from North Hegman Lake portage toward south along west shoreline

Click on the photos below to see the full resolution image - Use your browsers back button to close photo and return to this page.
PADDLING FROM BWCA ENTRY POINT 77 TO NORTH HEGMAN LAKE PORTAGE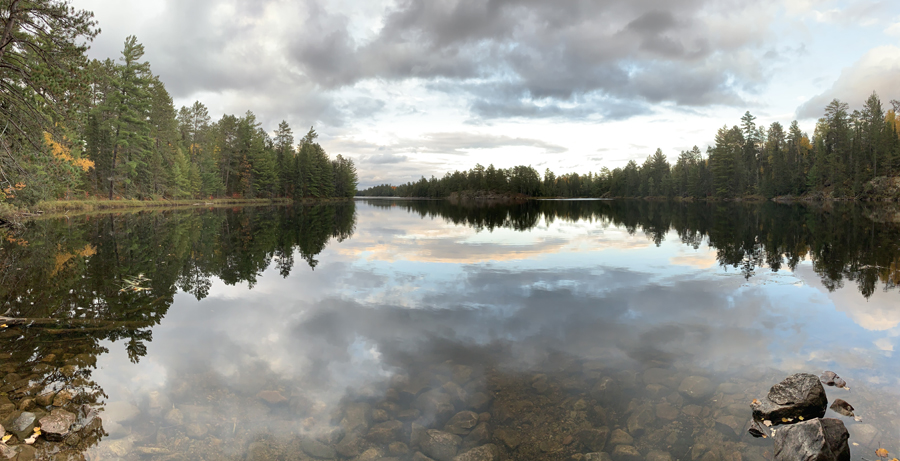 Looking northeast up South Hegman Lake from the Entry Point 77 portage landing. This view is in late September 2020.



Roughly the same view as image above (April 2016).

Taking off from the Entry Point 77 portage, you paddle up the western shoreline of South Hegman Lake to the North Hegman Lake portage.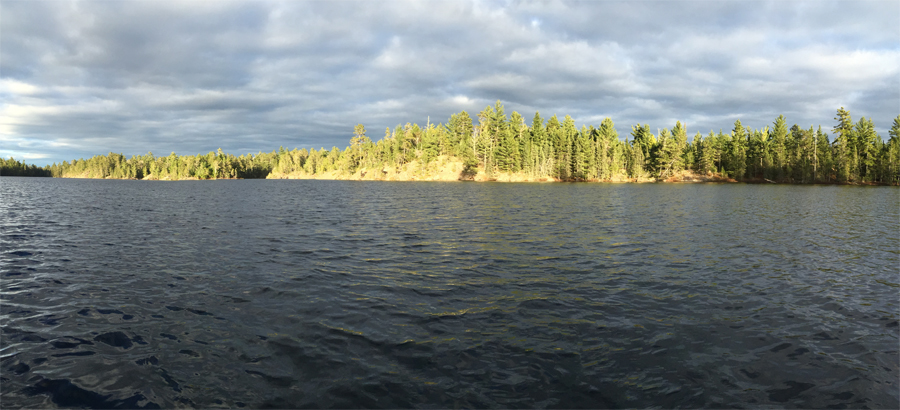 You're looking off to the northeast at the east shoreline of South Hegman Lake. It is late afternoon near the end of April.


South Hegman Lake peering toward the south from the North Hegman Lake portage landing. A small creek flows in to the lake on the right side of your view by the big boulder out in the water.

Otter swimming in South Hegman Lake right at the end of the North Hegman Lake portage. May be eating a northern pike. The otter was pretty engrossed in it's activities and didn't know it was being watched.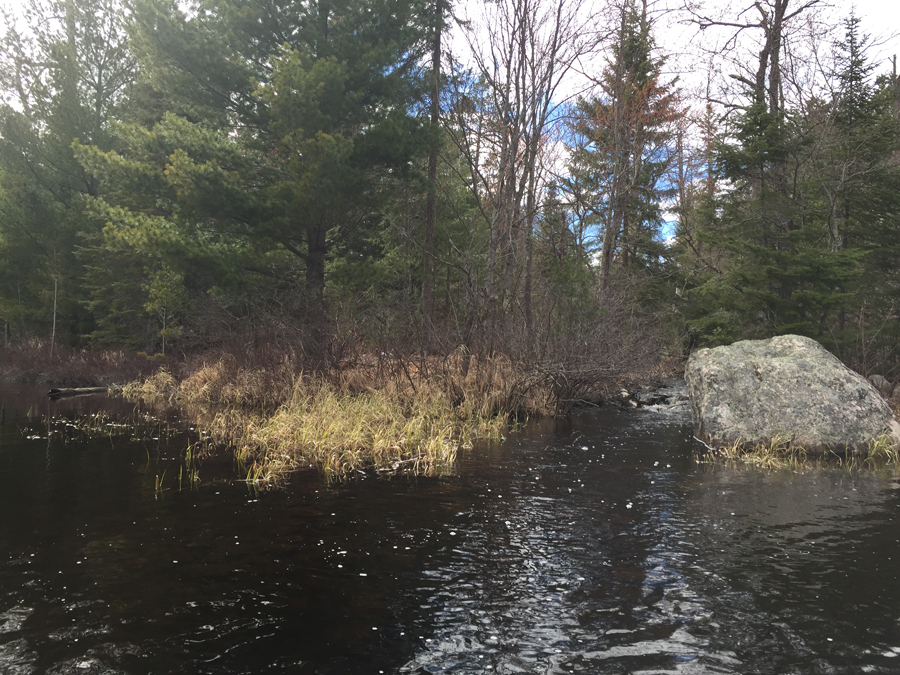 A view of the small creek that is near the portage between North Hegman Lake and South Hegman Lake. North Hegman Lake flows into South Hegman Lake.
Portage to North Hegman Lake -or- Explore Another Route
***********************************************END OF ROUTE***********************************************
PADDLING FROM NORTH HEGMAN LAKE PORTAGE TOWARD SOUTH ALONG WEST SHORELINE

A short paddle in the early evening from the North Hegman Lake portage south along west shoreline of South Hegman Lake. This video doesn't cover the entire paddling distance between North Hegman Lake portage and BWCA Entry Point 77 (only about one-third of the distance).
Route Connections for South Hegman Lake
From South Hegman Lake, you can portage to North Hegman Lake or to the Entry Point 77 parking lot.